Music for all occasions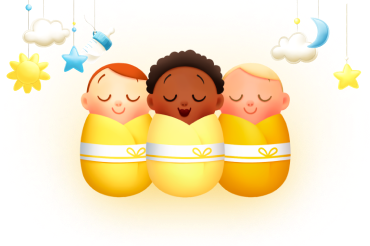 Surround your child with music! That will truly help your baby to learn faster, to discover something new in the common environment.
They say music is very good for kids, even when they are not born yet. Future moms are listening to classics or their favorite melodies, music surrounds babies from their birth. And music could be a good tool to help parents do their best.
First thing you should remember is that melodies for the new-borns and toddlers should be simple. It should be possible for your child to catch the beat, to move and make some noises to the melody. The second is that music should be catchy. And the third thing is that you should choose the right melody for different occasions. For example, it's not a good idea to turn the volume up when you are trying to calm your baby down.
That's why melodies for kids could be divided into three categories. There are melodies for games, melodies to cheer up and lullabies or melodies to calm down. And there is a place for every type in your baby's life.
We've made a top of the melodies for babies for each category. You could use those melodies or find some others.
Music to play with your baby


The Alphabet Song – The Green Orbs
One of the most well-known songs for children with simple, catchy and nice melody. Could be used as a background soundtrack for your games or as a tool to learn.


Kazoom – Quincas Moreira
Light and sweat, it is easy and comfortable for the whole family to dance to the melody. Imagine the nice weekend that is accompanied with it!


Fantasyland – Quincas Moreira
Great soundtrack for all the games! It could be doll theater, all together dancing in the backyard or every creative game you can imagine.


Music to cheer up your baby


Birthday Cake – Reed Mathis
Who in the world doesn't like birthdays, candies or parties? If your baby is gloomy in the morning, turn that track on! Make some funny faces and dance with your elbows.


Lovable Clown Sit Com – Sir Cubworth
One more great melody that makes you move and smile no matter what. Switch on the music, hug and kiss your child.


Splashing Around – The Green Orbs
Catchy and simple melody that could make all your family smile. Could be great for some outdoor activities. Great to distract your child from sad thoughts.


Music to calm your baby down


Twinkle Twinkle Little Star (instrumental) – The Green Orbs
It is an absolute top of the lullaby songs. We recommend an instrumental version if you want to sing to a baby on your own.


Sleeping Sheep – The Green Orbs
Some adults are counting sheeps to fall asleep, your child could fall asleep while this song is playing. It is calm and quiet.


Ukulele Beach – Doug Maxwell
Relaxing and calm melody. If you play ukulele, you could try to play it yourself. The sounds of an instrument will send your baby good and peaceful dreams.


Surround your baby with nice and light melodies, dance with them and smile.