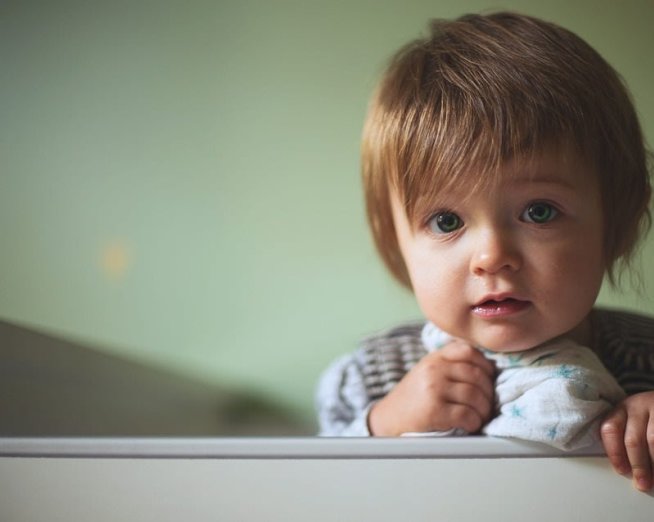 How do you get a baby to sleep? Many kids seem to be trying to extend their day and don't want to go to bed. Here's a psychologist's advice.
1 to 8 years
Wachanga psychologist Maria Miller has recommendations for parents - how to act in difficult situations and maintain a good relationship with your baby.
Does your child resist bedtime and refuse to fall asleep? Your kid wants to spend more time with you, playing, spending time together - they don't like that the day has ended, and they have to part with you (if only for a while).
The anxiety before falling asleep is not only a normal, but also a healthy reaction to a child's emerging attachment to their parents. However, both you and the baby need some good rest. Therefore, you have to try and put the baby to bed.
Create a ritual that will accompany falling asleep. Habitual and expected, it will help your child relax and feel safe.
Make sure that your kid's room has fresh air and a comfortable temperature for sleeping.
Follow a strict schedule - do not put the baby to sleep too late or, conversely, early.
Show calm and tranquility when you put your baby to bed. If you had a hard day, you are upset about something, the baby does not need to know. Right now, it's important that they feel comfortable and safe. Show them with all your behavior that there's no reason to be upset or afraid, and everything is fine and calm. If you are calm, the baby will be calm and fall asleep much more easily.
Put your baby in their bed when they're sleepy, but not asleep yet. Wish the baby a good night, kiss them, tell them you love them, accompany your words with stroking their back - all this is important so your baby feels even safer.
Get a "protective" toy that you'll put in the crib with your child. The toy should be clean, soft, and should not make noise or talk.
Reassure your child if they wake up and cry, but try not to stand near the crib.
How to create a ritual for a very young child
Everyone wants their child to quickly and calmly fall asleep, and sleep all night. You can find a description of many different methods and recommendations. However, it is important to consider that all babies are different, as are their families. There is simply no universal way to put a baby to sleep. You will need an individual ritual, which you create together with your baby and will repeat every evening.
This kind of ritual can begin 15-20 minutes before bedtime. It's best if it's simple and short.
For example:
Go for a short walk after dinner. Fresh air and physical activity certainly benefit your baby. After a walk - swimming to pleasant calm music. Then a little massage and putting on your favorite pajamas. When breastfeeding, try humming your baby songs. Read a book together or sing a lullaby. Put the baby in the crib when they get sleepy.
Find the ritual your baby likes. It is important to do it regularly and at the same time daily. You need to prepare your child for bedtime smoothly, and there will be fewer tears and less exhaustion.
Ideas for preparing for bedtime, for babies from one and a half years old
Children very often resist trying to put them to bed. Try to give a choice - different options for preparing for bed.
If your baby was active during the day, calm games will help calm them down in the evening - play with the baby, but finish all the activities an hour before bedtime.
Overexcitement can be calmed with a warm bath - after bathing, a child falls asleep faster.
We put on our pajamas. Let your child choose their sleepwear.
We wash and brush our teeth together. If your kid doesn't like to brush their teeth or wash their face, the opportunity for them to make a choice themselves can help - let them choose a brush and soap at the store for you to buy.
We give the baby the choice to pick a toy that they'll take to bed.
We talk with our child. They shouldn't fall asleep in an excited state. Talk about how the day went, explain hard to understand situations. Try to have this conversation in an even and calm tone, this will help remove any anxiety a kid's accumulated over the day.
We sing a lullaby or read a book. If you can come up with original fairy tales for your child - that's a big plus.
Do not wait by their bed until your child falls asleep. If they get used to that, then, waking up during the night and not seeing you there will worry them. Kiss them, wish them good night and leave the nursery.
If your baby has a nightmare, and comes to you crying, try to put the child in their own bed. In this situation, a nightlight is helpful. If bad dreams are constantly disturbing them, seek the help of a psychologist or psychotherapist. Sleep is very important for a person, therefore, any problems should be dealt with as soon as possible.
Important! Especially be aware of your child's daily schedule, when your kid starts kindergarten. Sleep time should be sufficient so that your baby manages to regain strength, and sleep during the night. Otherwise, fatigue and stress will accumulate, and trips to kindergarten will increasingly be accompanied by crying and tears.
Take a picture of your baby in their crib. Tell us how you put your child to bed - do you have any tips?
Enter a valid email to sign in or sign up
Open the letter and click the link.
The link is valid for 15 minutes
E-mail
If you enjoyed this activity, you may also like the following activity, too